Introduction
Dink Flamingo's Active Duty is a homosexual porn film studio that specializes in producing movies starring military men that are straight, bi or gay, engaged in gay or solo action. The Active Duty web site is the showcase for this film studio. The web site is set up to harness the fact that an attractive man wearing a uniform, be it a soldier, a sailor or a marine, can appear as irresistible to a lot of people. On the web site, you can choose to watch gorgeous pictures from hundreds of galleries, or you can order DVDs, also with hundreds of titles available. Among the most popular video series, these are just a few: 'Bareback Barrage', 'Alpha Tango', 'Seducin' a Sailor' and 'Tour of Duty'. The DVDs are sorted into easy accessible categories, like First Time, Twink, White Butt, Sensual and Muscular. In the latter category, the title 'Crossing the Line', featuring the promising talents Jake (Big Jake) and Jamie, is highly recommended. Another movie I can't help but recommend, is 'Ready Reserves 2′, a production that covers many categories, such as Rimming, Smoothe and Threesome, featuring eight brilliant, handsome actors. One of them, Nick Gunner, is among the most talented porn actors on the scene, and a real hunk as well. There are over 400 actors and models featured in the Active Duty galleries, so it's not easy picking whom to recommend. The cute blonde Devon, well equipped Miguel, and the fresh cowboy Phoenix, would be three obvious choices.
Technical
At the Active Duty web site, non-members get access to five free previews from the picture galleries, and similar good and generous trials and offers. There is no doubt, however, that you have to sign up for a membership to fully be able to enjoy the benefits of the Active Duty web site. As a member, you will find an amazingly huge number of daily uploaded movies that you can watch any time of the day or night. Members also have the option to engage in real live chat on camera with a large variety of attractive men. The cost for signing up is not pricey at all, especially considering all the advantages that follow a membership. If you sign up for a VIP membership, you get access to Feature Shows, and you can navigate the site even more easily. With that in mind, navigation is pretty simple for regular members as well. Though I'm being a bit careful using the term "straight-forward", being gay is not a requirement for those who want to enjoy the Active Duty web site. Of course, straight men can also enjoy watching picturesque subjects showcasing their beautiful bodies, or even engaged in natural, playful or lustful activities. The intention of the experience might be to achieve inspiration, engage in comparison to own features, or purely educational. In fact, Active Duty is a website that can be enjoyed by all segments of the adult audience. According to some rumors, there are actually a few lesbian couples who consider Active Duty to be their all-time favorite porn web site!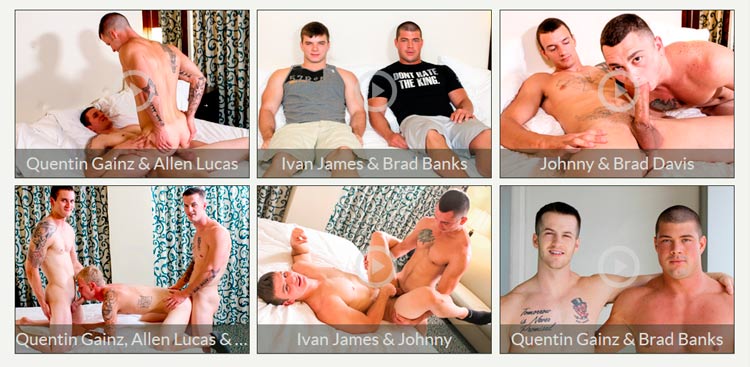 Flicks & Boys
Owner of the production company Active Duty, or rather the pseudonym of the owner, is Dink Flamingo. The made-up alias has to be a reference to the 1972 movie 'Pink Flamingos', made by the infamous gay icon, Baltimore movie director John Waters. Waters has been an avid supporter of gay pride and gay rights in the US for more than 40 years, and he notoriously casted the controversial, former pornographic actress Traci Lords to star in two of his mainstream movies in the early 1990s, 'Cry Baby', also starring Johnny Depp, and 'Serial Mom'. For Dink Flamingo, Active Duty is a passion project. The web site features a long letter from the producer, where he states his motivation for starting his activity of sharing pictures of military men with the world, some 15 years ago. The entrepreneur and producer assure us that he does not know of anything hotter than watching a real straight military man explore his sexuality with a buddy. The activity deriving from Dink Flamingos passion project has resulted in a lot of honorable distinctions. In 2006, the Active Duty web site was awarded Best Webcam Site by Cybersocket Web Awards. The movie 'Rear Gunners 2' won Best Alternative Video at the 2007 GayVN Awards. The Active Duty web site won another Cybersocket Web Awards for Best Original Theme Site the next year. In 2009, Dink Flamingo was voted into the GayVN Awards' Hall of Fame, the same year as Active Duty won the Best Original Theme Site at the Cybersocket Web Awards. There can't be any doubt the Active Duty web site is regarded by both critics and regular people, as one of the very best gay porn web sites available.
In Few Words
Active Duty features more than 400 attractive models. They are all listed to be 100% real active duty soldiers, 100% amateur, and 100% original. It is one of the biggest, definitely one of the best in quality, and one of the most established gay porn web sites still around on the internet. For a fair price, you can access huge amounts of videos or pictures, or you can even take part in a live chat with one of the stunningly handsome models. The choice is yours, and the opportunities are seemingly endless on Active Duty. I can't count the number of times surfing the Active Duty web site has made me appear late for some appointment or ordeal, sometimes totally missing out on important activities. I guess I can't really blame the mesmerizing men in uniform on Active Duty for my attenuated willpower. They are only doing their job, and a damned good job to boot, performing so fantastic they may cause harm to the audiences' time consumption.