Introduction
Czech girls have a reputation for being one of the hottest women in Europe and CzechAV totally does them justice. This is a very authentic amateur porn network that knows how to promote their wives. Do you want that hint of originality and authenticity in your porn? Well, you came to the right place. The settings, scenarios, plotlines, and situations are unique and fresh. It's like watching a reality show for perverts but in a good way. Discover what these beautiful women have to offer in a collection of 25 excellent sites of amateur clips to choose from.
This is a great place to see all the crazy action in the streets, saunas, girls getting hot in the showers, public sex, freaky wild parties, tasty homemade amateur videos, you name it. This network has everything you'd want and more. It leaves no stone unturned, or cheek, for any of that matter. It is easy to navigate on, and although 25 sites seem a lot, they all have a very suggestive name and detailed description so you know exactly what you're getting yourself into. So come Czech them out!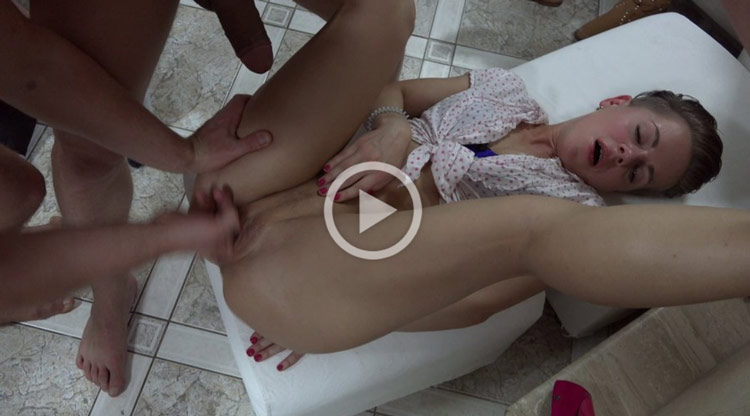 Technical
All in all, this is one of the best Czech amateur porn networks. It has 25 linked sites that offer a great variety of amateur videos but in high definition. The video and sound quality is top notch, and the amount of content(both in video and pictures) is overwhelming. Out of the whole network, the Casting Couch site seems to be the largest and most active. Here you can watch some of the most beautiful women being interviewed and faced with some naughty offers. Czech Couples offers footage of random couples getting a seemingly innocent interview on the streets, but somehow they always end up fucking in public places and having the time of their lives.
The Home Orgy, Czech Harem, Gangbang and Mega Swingers channels offer exactly what you'd expect: huge gangbangs and group fucks, chaos and wild hot party sex. Czech Garden Party seems to be the most original out of the gangbang channels since you can see open air parties getting way out of hand. You can bet the neighbors weren't very happy about it, but the parties turn out to be a blast and wild time to remember. The Sharking channel is another original one. It features scouts that disrobe random hot girls in the middle of the streets. It's a "hit and run" kind of project, but it is mind blowing how many of the chicks don't seem that much bothered to be exposed on the streets. The Czech streets are not that safe, but the girls just seem a bit surprised and turned on at the same time. There's also a Lesbian channel that mostly shows lesbian parties, so if you like tons
Of girls getting naked and busy on one another experimenting in groups, you're going to enjoy this. The network also has a high-quality POV channel that make you feel you're really in on the action and the Supermodels channel that combines the hidden cam interview with the POV experience. The Taxi channel is also great, featuring a hidden camera fake taxi experience just in case you want to see girls get wild in the cabin Prague, offering sex in exchange for the ride. The taxi driver gets his wild ride if you know what I mean. Last but not least are the voyeur type sites that give you the thrill of feeling like a dirty spy in various places. You can check out the girls' perfect shapes in the shower, in the changing rooms and even on the toilet. Watch stunning women get hot and sweaty in the sauna without the risk of them catching you. Sounds like every pervert's dream, right?
Flicks & Chicks
The girls on this site are well, real. They're all amateur models, none of them are famous porn stars, so they have a natural beauty about them, and you don't need to be reminded the kind of hot women the Czech Republic can bring to the game. They don't wear that much makeup, and mainly because they don't need it, these girls are seriously hot and don't need further help to get anyone horny. But being more natural and authentic, they also come in great variety, some flavor for each and every one. From the slim fit, tall, slender girls to busty curvy ladies, even plus size models, you can find something for every taste here. Speaking of variety, some of the girls don't even seem to notice they are being watched, if you're into a voyeur. If that's the kind of experience, you're going for you can take a peek and feel like you're spying on them. They won't tell if you won't.
In Few Words
So when you're done browsing the 25 sites from the network to make sure it has all you need out of your amateur porn preferences, you can check out the prices on memberships.
Members will sign in and receive access to the whole 25 site network, regardless of the type of the purchase. Customers can pay by credit card, and if the massive content of these websites is not enough for you, there are daily updates and uploads, so you never get bored with the old material. They say once you go Czech you never go back.