Introduction
Do you spend too much time surfing the web in search of cute, sex mad chicks and not enough time watching them? Then Hot GF Videos and the network of other amateur girlfriends' sites it belongs to, The GF Network, is where your search ends. On this site and in this network you'll find an astonishing archive of the horniest amateur girls, all showing everything as they progress from 'butter-­‐would not- melt-­in her pussy' shy girls to raunchy amateur porn stars and all in front of their own, or their boyfriend's, cameras.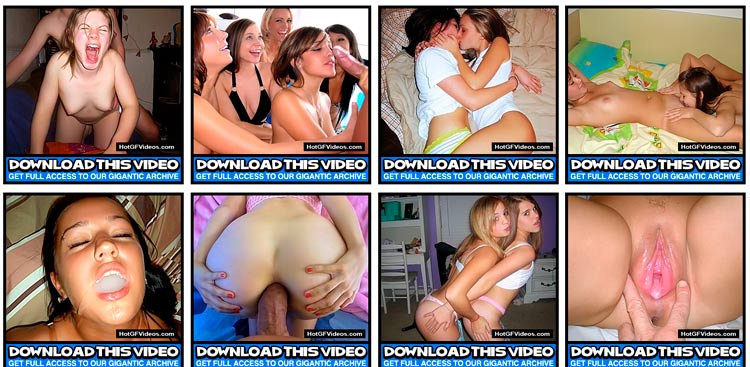 Technical
The GF Network has created a network of 25 sites of which 15 are real amateur girlfriend sites with content submitted by enthusiasts like you. With over 8,000 gigabytes of user submitted girlfriend movies, they're the biggest on the web their tagline says. There are daily updates across the whole The GF Network network and they add new sites to the network regularly so your subscription is a growing investment.
Your membership of Hot GF Videos also gets you in to see their live cam girls, which is more spontaneously sexy than just watching movies in my opinion. Some of the other sites on the network are My Ebony GF, which speaks for itself, or My GF Loves Anal, where amateur couples enjoy all things ass related, Oral Girl Friends, which is focused on the other end of her hot body, Obsessed With Myself for those who enjoy watching girls play with themselves, or, and here's something completely different in porn sites, My NN GF, which is a site dedicated to girlfriends who are Not Nude! I think that's a nice twist on an old story. The GF Network is where amateurs come out to play and they need you to watch or what would be the point?
Flicks & Chicks
So what hot girlfriend video action will you see if you join? The landing page has 72 thumbnails that link to a video that you can only see if you're a member. Still these images give a good indication of what the cute chicks get up to. There are plenty of pussy pictures, shaved, trimmed, neatly closed, generously spread open, being fingered and toyed, being reamed by a cock or stretched by two, dripping wet with juice or cum, coyly dry and virginal, presented brazenly, buried shyly between closed thighs, and peeking temptingly from under plump bottom cheeks. There are videos where a single cutie privately shows us everything she has and masturbates for our pleasure and videos where girlfriends support and compete with each other to show us their charms while examining each other's cute pink orifices for their pleasure. There are single selfies and group ones too. There are girls entertaining their boyfriends' pricks in their mouths, pussies and bum holes, and girls begging for someone to come and do that to them. Creampies drool from mouths, pussies and ass holes from the happy girls who have a partner, while wistful selfies sell the charms of single girls to the world as they long for a response from us. Some of these girls are kinky, with the clever use of a bedpost, and public sex being featured.
Most of the girls on Hot GF Videos are creamy complexioned or tanned cuties but within that boundary Hot GF Videos has a chick or chicks that will light your fire. And when you've enjoyed all they have to offer, The GF Network has all the world's girls on show, including Asians, Ebony, Europeans, Indians, and Latina girlfriends having their sites. Most of the cute amateurs are still in the growing stage but there are also sites for those whose figures have become womanly earlier – GF Melons and My BBW GF for those of us who like our girls to be BIG upfront and behind!
One of the network's sites that is sure to appeal is Chat Revenge, where user submitted videos and images have been taken from messaging services like SnapChat, WhatsApp, Viber, FB Messenger by angry ex‐partners and posted here. This really is a guilty pleasure.
In Few Words
A $1.00 for one day trial membership will give you a quick look at Hot GF Videos. For a better chance to get acquainted and a good look round all the other The GF Network sites, take out a month long subscription. It's only $27.95, which is only $0.83 per day, and it gives you the time you'll need to enjoy their content. Better yet, a three month membership is $59.97 a bargain at $0.67 per day. Your membership lets you into see all the incredible things cute chicks are doing right now to themselves and with their boy or girlfriends. And all in a natural, honest girl and boy next door way, which makes it the best porn anywhere IMHO.
Sign up is online using your credit card. If that makes you nervous, maybe other people see your card statement, fear not! The name of the company that appears on your statement is a safe one. You're never going to find so many cute, girls in heat anywhere else, so just do it – join and start enjoying.
"site no longer updated. Have a look at the best GF porn pay sites!"