Introduction
The name of this website seems to make it pretty obvious: this website is for those people that want to fantasise about getting lucky. But how lucky do you want to get? You have probably watched a lot of porn already, everyone has, and are bored of how similar all of the videos are to each other. You probably have fantasies that are hotter than the porn that you have watched, but when it comes down to it you simply can't enjoy yourself as much because your fantasies are completely intangible and cannot be harnessed in any way.
This is where TheLuckyMan has an edge over its competitors. The site focuses specifically on fantasy fulfilment, reverse gang bang in this case. These are the sort of videos that you probably imagine while you are in bed and horny after a long day's work. One of the best aspects of this website is its uncanny ability to tap into the minds of its audience and actually figure out what men would find hot. Read the review to understand what the site has to offer in terms of features, subscriptions and videos.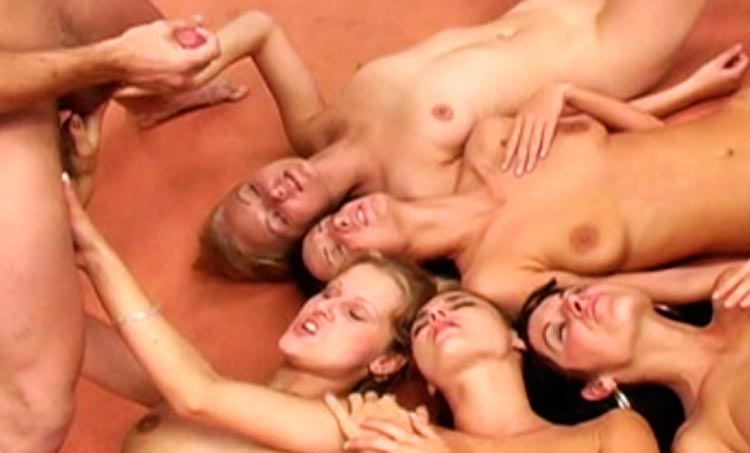 Technical
Right off the bat, when you enter this porn site you are going to be struck by how well made it is. Everything in this site seems to come together like an intricate puzzle, with every aspect complementing the next aspect in a way that makes your porn viewing experience truly phenomenal.
This site claims that it only delivers quality content. The best way to see if a site is truly going to give you a good experience is to see how it has been designed. If the design in garish in any way, if it does not give you the sort of seamless experience that you are right to expect from a porn site that you are paying for, then you are not going to end up enjoying the porn as much as you would have otherwise. The design of the site would start to distract you from your jerk off session, and this would not do at all. TheLuckyMan is nothing like this at all. With a tasteful colour theme and a rather tongue in cheek four leaf clover logo, this site has everything going right for it in the design department, and this is important because it will end up helping you enjoy the porn you are watching all the more.
The site is part of a large network of porn sites, which means that when you pay for a subscription to this site you are going to get access to not one but fifty sites in all! This is a ridiculous number and it might give you the impression that this site prefers quantity over quality but this is not the case at all. Each site focuses on a specific fetish or some kind of personality trait during sex and creates porn specific to that trait.
You can try the website for free for two whole days and stream as many videos as you want. This should be more than enough time to decide whether this kind of site is for you or not! Apart from this, there are also a number of paid subscriptions that you can opt for. Once your free two-day trial has expired, you are going to have a number of different options to go for. You can go in for a monthly subscription or a quarterly subscription, based on your preference. But wait, there is more to the subscriptions, and the best is yet to come. This is the annual subscription which works out to a ridiculously low amount. Add the 50 sites that you get along with this subscription and you realise what I am talking about.
Flicks & Chicks
Just like the various aspects of this website's layout and design, the porn on this site is also composed of a number of intricate parts each of which come together to, well, make you come together with them. The videos usually feature at least six people, one man and at least five women, and this is a great gimmick because you have obviously fantasised about being served obediently by a number of sexy women.
The most notable thing about the porn is how tasteful it is. This may seem like an odd word to use to describe porn. After all, in these videos women get in line to suck a man's cock and lie down waiting to be penetrated by the same cock turn by turn. But the videos are never degrading or demeaning, the sex always seems like it is fun for everyone involved and that is possibly the most important thing about the porn on this site. This is what reverse gang bang is all about, and after watching TheLuckyMan, you are sure to like this kink and fetish a lot.
The girls and chicks really enjoy getting fucked and overall, the porn is very genuine, from the moans, groans, screams and orgasms.
You will also enjoy the fact that the porn has been shot using high-quality lights and cameras, all of which are very good at capturing a very realistic representation of what these sexy people fucking is like in real life! The content on this site is, simply put, unmatched by any other site.
In Few Words
There are many reasons why this site deserves your money. The chicks, the alpha male, the low annual subscriptions and access to over 50 sites of the PornstarNetwork, this site is the biggest bargain you can get in porn. The videos give you an escape route into a fantasy world, where you get to see one guy fucking numerous gorgeous women, who have submitted themselves to his cock. Your fantasies will definitely come to life without an iota of doubt. So, what are you waiting for? Sign up, and unwind yourself after a day's of strenuous work, and fantasise becoming TheLuckyMan at the expense of these hot, sexy and gorgeous women.